Once upon a time, long, long ago, there was a staircase.
A fairy came along, blew magic pollen and the stairs got fixed🤩….
Yes it's a fairy tale, it wasn't that easy 🎃
It was like this:
In the period from the demilitarisation of the Silver Mountain Fortress in 1860 to the present day -the staircase had escaped….
⚠️
Faulty drainage, lack of door and window frames, lack of user – caused annual damage to the walls especially after winter.
Trees were growing into the walls and vaults with their roots, allowing the interiors to flood and the brick and mortar to corrode in winter.

The juxtapositions show what we found and how it looks at the moment 😊
⚒ Thanks to the conservation work carried out in the interiors of the Cavalier and Lazaret of the Upper Bastion, we are returning to the original appearance of our walls and, most importantly, allowing access to the casemates that used to be inaccessible 😊
The staircases will be equipped with lifts for people with special needs 💪.
We are preparing new exhibitions there, including a topic that is troubling the minds of our professors – how the Silver Mountain Fortress was built.
Maybe someone willing to help 😉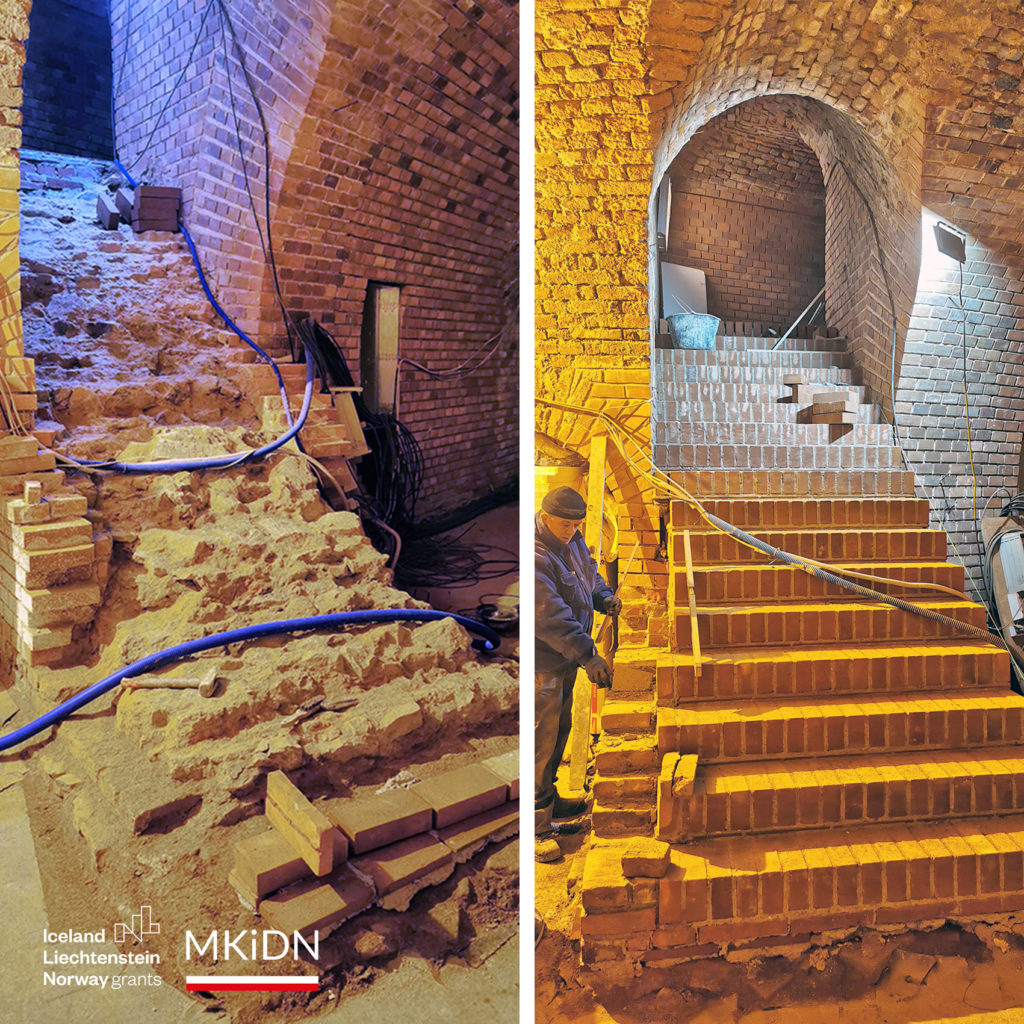 The project entitled Revitalisation for cultural and educational purposes of degraded and inaccessible parts of the Silver Mountain Fortress Historical Monument received funding from the Culture Programme of the European Economic Area Mechanism 2014-2021, Measure 1. Improvement of cultural heritage management, Sub-measure 1.1. Restoration and revitalisation of cultural heritage.
Contractor – VICTUM PROFESSIONAL Sp. z o.o.
Value of construction and conservation works for task no. 2 – PLN 6,136,470.00 gross.
Completion date is February 2023.
Beneficiary: Srebrna Góra Fortress Sp. z o.o.
Partner: Fjellugla Kompetanse AS
Together we are working towards a green, competitive and inclusive Europe.